Digital selections
Real estate configuration: Offer your buyers a special experience
Save valuable time without neglecting customer service and let your customers already (pre) configuration online.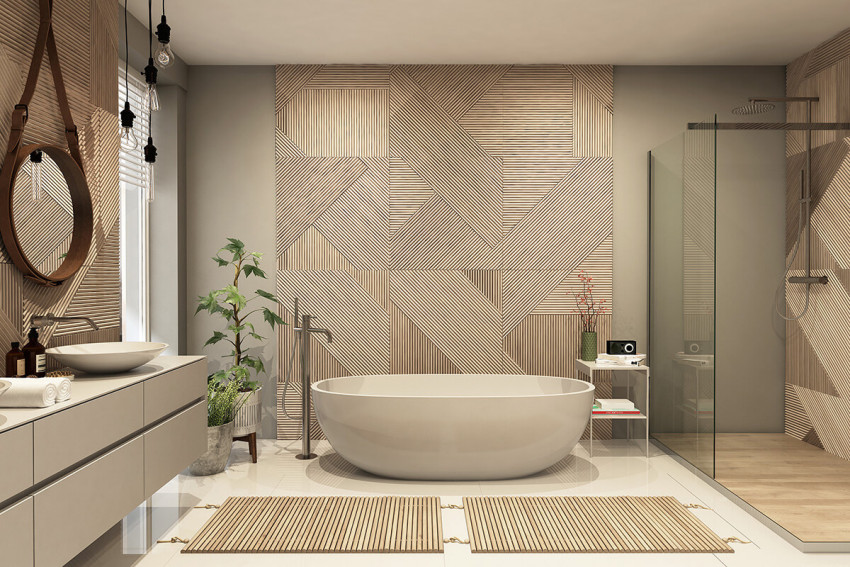 Customer service on a new level
Buyers are guided step-by-step through the sampling process and always have an eye on upcoming dates and deadlines.
Planning & price certainty
Set dates and deadlines for your buyers in Planstack. This will ensure that the final selection is made within the project schedule.
More efficient customer meetings
Give your buyers the opportunity to prepare for personal appointments and thus make a pre-selection already at home.
Digital selections
Online residential configurator
Every sampling/selection is different - we accompany you through the entire process. Handle the sampling of your construction project digitally in Planstack and save valuable time. With a targeted display of your home furnishings or equipment lists, your customers will feel like they have an all-inclusive package.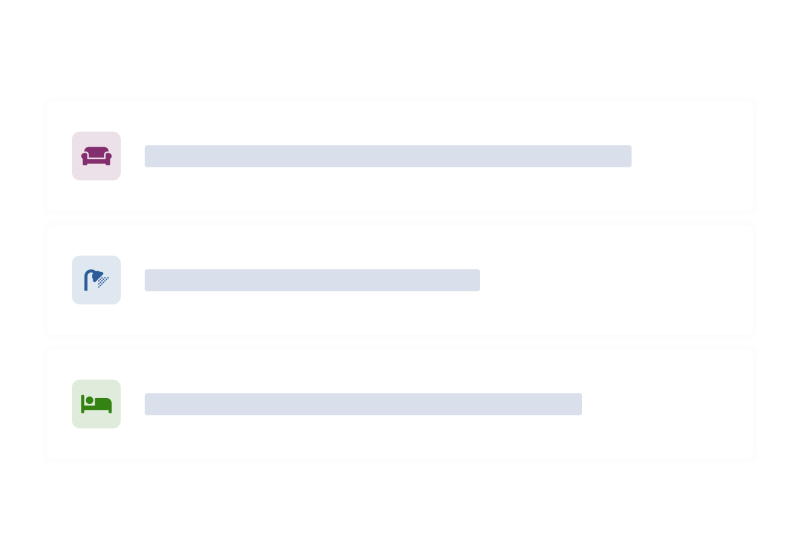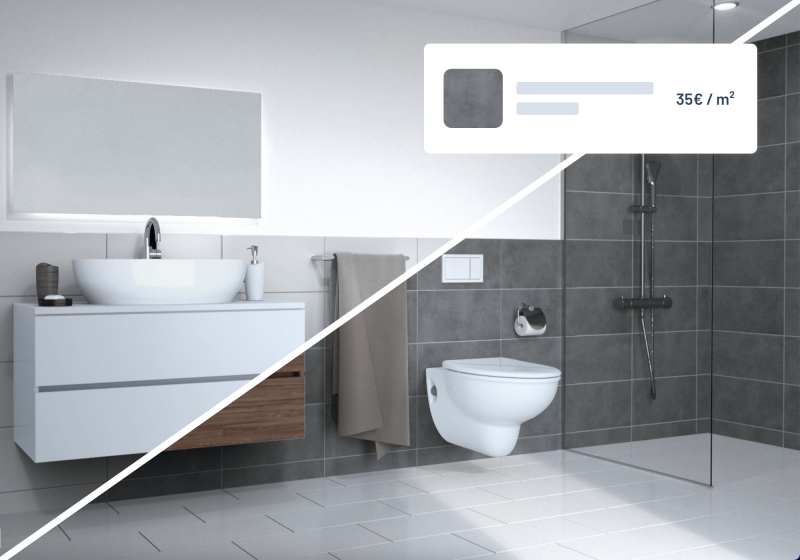 3D apartment configurator
Configure apartments with a few clicks
Do dark wall tiles really go well with light floor tiles? Especially because individual sample tiles are often difficult for buyers to imagine in the room, an apartment configurator is ideal here. Here, not only are the surfaces and fittings visualized, but your customer also always has an eye on the additional and reduced costs of his selection.
Do it yourself
Create products and selection for customers in the shortest possible time
In Planstack, you can create and customize any project component, as well as selection catalogs. To speed up the creation of new projects, you can also copy existing catalogs from project to project.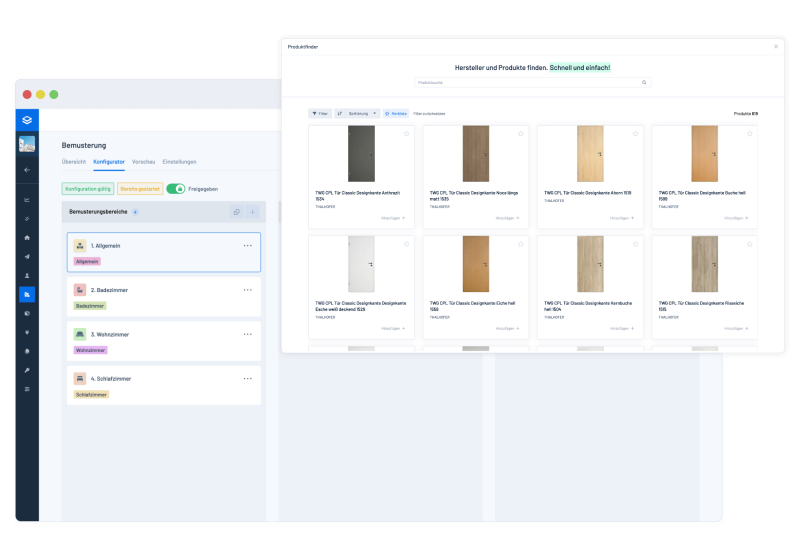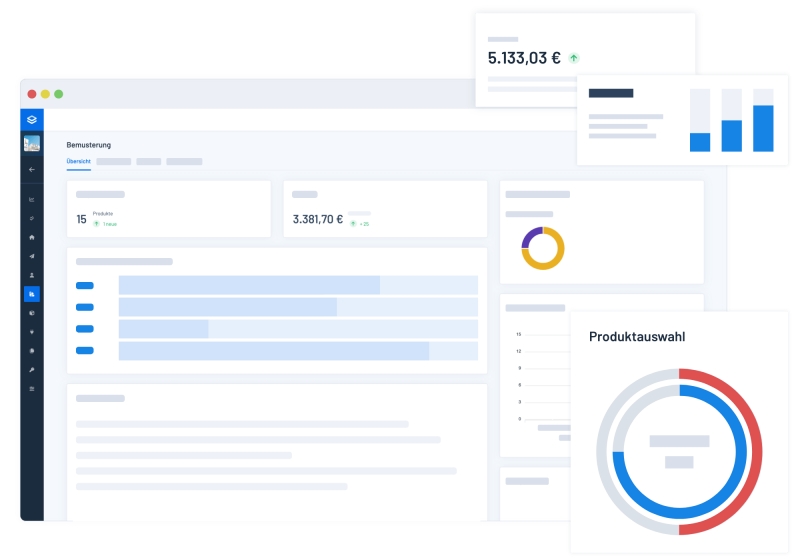 Evaluation in order lists
Direct evaluation of configurations
Use your time for building and not for a manual evaluation of the selection sheets!
Planstack creates an order list of the selected products for you, which is automatically assigned to each trade. Subcontractors are directly informed about the start of the installation work and can work off the individual tasks.
For every builder
Equipment lists for each project
You want to let your client choose the project equipment in general and use equipment lists in Excel for this purpose? No matter whether it is a public project or a commercial project - there is always a need for sampling. It doesn't matter if it's exterior surfaces, stair railings or facade elements: Planstack covers many use cases.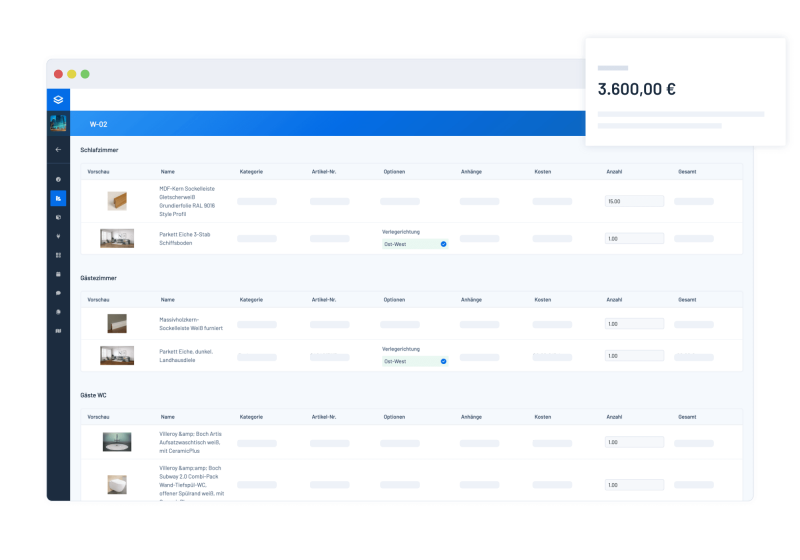 Learn more about Planstack
Task boards
Overview of all tasks in the construction project
Frequently asked questions
Digital sampling gives your customers the opportunity to inform themselves about the building description and alternative products independently of personal appointments. Even if individual buyers still want a personal consultation with your account manager, these discussions - in our experience so far - are faster and more structured. In the case of projects in which apartments are subsequently sublet, a well-visualized, digital sample is usually sufficient.

Planstack does not replace personal customer care, but supports it. Customer appointments are better prepared on both sides and your purchasers make more targeted use of personal appointments. In addition, Planstack makes the daily work of your customer service staff easier, since all information is bundled and centrally available - and automatically documented at the same time. This saves you time in processing, which you can use directly for your customers.

Of course, this case is also covered. In the sampling sheet, you can specify for individual items whether a purchaser may add "own products". For the requested products, additional or reduced costs can also be easily stored.

Some sampling centers, such as Thalhofer - Dein Planungszentrum, already work with Planstack and are able to provide seamless on-site support for their customers.

You can set a deadline for digital apartment configuration both on a project-by-project basis and individually for each unit. Your purchasers are automatically informed about upcoming deadlines - via app and email.

Whether in residential construction or house building - digital sampling catalogs support your customer management in construction simply and efficiently.

In Planstack, you have the possibility to create your own selection catalog - of course, we will support you in doing so upon request! Via an integrated manufacturer database you can also directly add products of the manufacturers to your catalog.
Get to know all functions
First have a look