Change Request Management
Handling of change requests made easy
Get the most out of change requests and save valuable time in processing. Avoid misunderstandings, annoying e-mail traffic and a multitude of unnecessary documents.
Process change requests quickly and easily in a structured manner using agile working methods. Trades and planners are automatically included in the process.
Transparency in customer service
Serve your customers in a modern way and provide them with change request catalogs digitally. In this way, you increase the chances of an easy "post-sale".
From the request for quotation to the execution on the construction site, all information is always comprehensibly summarized and available.
Manage special requests
Change request management made easy
Receive and manage change request inquiries from your buyers or owners directly through Planstack. Fast coordination, a central source of information and easy commissioning are just a small part of the benefits when you choose digital processing.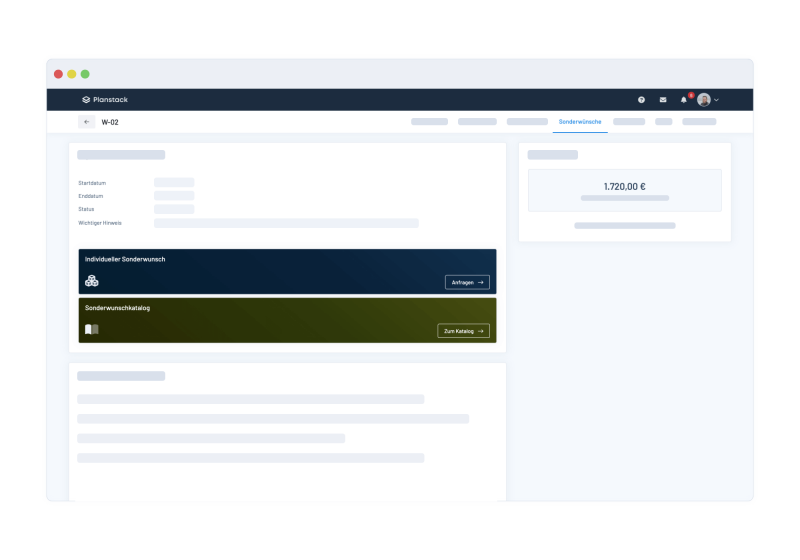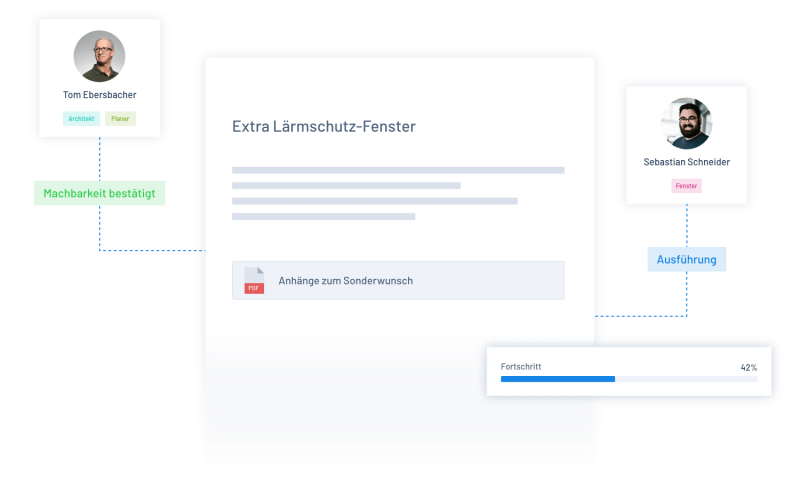 Involvement of stakeholders
Processing of change requests in the team
Change requests are automatically assigned to trades and persons, so that responsibilities are immediately clarified. Offers for supplements or rescheduling are immediately available and can be used to take the next steps. Every activity during and after the project is precisely documented.
Offer management
Digital offerings
Send quotes for change requests directly via Planstack and follow the further progress. Set a deadline for your buyer when sending the offer, so that you can still integrate the realization into the construction process in time. Your customers can accept or reject offers made in the buyer portal at the click of a mouse. If there are questions about individual items, an exchange via the integrated chat is possible.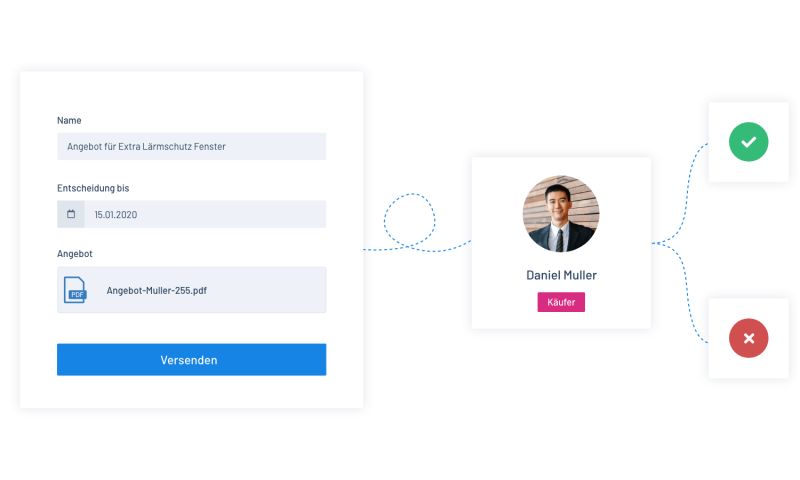 Learn more about Planstack
Task boards
Overview of all tasks in the construction project
Frequently asked questions
With the help of digital change request management, certain coordination with stakeholders can run efficiently via a standardized process. You determine what needs to be done by whom at what time and can easily track the activities and agreements of all parties involved at the end.

Acquirers can roughly track the status of the special request. For example, they are automatically informed whether feasibility has been confirmed or whether an offer is available. However, purchasers do not see any internal agreements or offers for supplements from craftsmen or planners.

You determine the conditions for digital change request inquiries. For example, you can store a catalog of change requests in which the expected costs are already transparently available so that you only receive change requests that are actually ordered.

You can easily deactivate this function if no change requests are possible in your construction project.
Get to know all functions
First have a look